The Feathercoin Team
On this page, we would like to introduce to you some of our community members who've made significant contributions to Feathercoin. Each member has their own field of expertise and has found a way to help out. This is the reason why Feathercoin is recognized as having one of the strongest communities gathered around a crypto currency.


[su_row]
[su_column size="1/3″]
ghostlander
Development

Has been with Feathercoin development team since the early days. Currently leading the development on new hashing algo Neoscrypt. Contributes to all things technical when we're talking code, he and Bushstar work closely together hashing out the technical details with other members of the development team too.
He is also the lead developer on Phoenixcoin after he volunteered to raise it out of the ashes, take care of their code and developments after previous devs abandoned the coin in dust. He is also the lead on Orbit Coin.
[/su_column]
[su_column size="1/3″]
chrisj 34, UK
Promotion/PR


After fighting long battles with the trolls in the depths of the Bitcointalk forum (and he did slay many shills as they spread FUD in the BTCe trollbox in wee hours), Chris was on a long quest to find good people in the world of Bitcoin. Then on the horizon Chris spotted the Feathercoin forum.
"Finally a bunch of decent human beings in the Bitcoin space!", he thought as he finished confirming his registration email (which had found its way into his spam folder by mistake).
Chris spent many glorious months inviting new members, introducing people to one another, writing newsletters, settling disagreements between developers and staying up until the middle of the night to take part in Interviews with like minded individuals in America.
[/su_column]
[su_column size="1/3″]
Wrapper
50+ grey haired English
Development, analysis, testing


An early member of the Feathercoin forum, joining in the technical discussions. Helps out maintaining the forum, greeting new members, answering and analysing mining and technical support issues. Mentor for new staff. Monitoring the block chain network and some development and testing. We run a small home miner as a hobby and p2pool hub.
I am disabled, retired ill health, so am limited in what I can do. But with the help of my son and some friends, for the last year that has been 100% Feathercoin. I've got a PhD in Physics and was working as Maintenance Management systems consultant and Software designer at Manchester University before I retired.
GNU/Linux open source / github fan
[/su_column]
[/su_row]
[su_row]
[su_column size="1/3″]
Ruthie
Mid 30's, Oxford, UK
Engagements


Been with feathercoin from early on, Ruthie is involved in helping introduce new users to the forum and organising meetups like The Oxford Crypto Group and feathercoin meets. Offers on going support to the Hull Coin Project, helps in building relations with merchants and organisations that support feathercoin, happy to reach out to new projects. Willing to pitch in with members when needed, always here to assist.
People ask how I got into feathercoin? I always say, "I never expected to be this involved, but there is something that draws you – the community spirit".
[/su_column]
[su_column size="1/3″]
Calem
Late 20's, Australia
Project Management and Digital Media

Came across feathercoin after having his interest in crypto currencies rekindled in late 2013. On his days off he acts as a "night shift" forum mod due to his timezone. He has assisted the community in his spare time with forum moderation alongside supporting any projects able. He is currently working on adoption within Australia but works on other projects like the game "Feather Roller" as well as the Digital Media section of the forum. – "I came to the forum looking for an answer to a question, but ended up staying because of the community!"
[/su_column]
[su_column size="1/3″]
iawgoM
Mid 30's, Croatia
Website Development and Digital Media

In-house designer. Usually summoned when your Paint skills aren't good enough. Joined Feathercoin as a miner in April 2013, liked the people, decided to stay and help around as much as possible.
Besides doing graphics and web development/maintenance for FTC community needs, also available as a freelancer for other cryptos.
[/su_column]
[/su_row]
[su_row]
[su_column size="1/3″]
uncle_muddy
Late 30's, West Midlands, UK
Development and Merchant Adoption

Became involved with feathercoin in late 2013, he has helped feathercoin along its journey with the Prostate Cancer UK fundraiser, developing a building the OpenFeathercoinATM, assisting with the organisation of meet-ups, and is now working on featherPay the handheld PoS terminal.
[/su_column]
[su_column size="1/3″]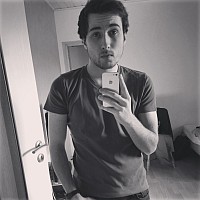 ChekaZ
22, Germany
Allrounder

I am a German student who became involved in Feathercoin at May 2013. Since then I have been helping with merchant adoption in Germany with Dahms Winery being our first merchant. I also like doing my own little projects such as spearheading the special limited edition bottles of wine from the winery, also have taken a dabble in some development work and made MinerX – a mining tool for beginners.
[/su_column]
[su_column size="1/3″]
Wellenreiter
50+, Germany
Technical Development

Grey haired German, working as network specialist for a large company.
Linux fan.
Got involved with Feathercoin in summer 2013. Started with mining, and still mines with low hashrates. Does some programming and testing. Creates the Linux install packages and Android releases.
[/su_column]
[/su_row]
[su_row]
[su_column size="1/3″]
MrWyrm
30's, Cumbria, UK
Forum Moderator

In his very early thirties, he's a community and people power enthusiast working in IT and retail systems. He found Crypto Currencies late but instantly fell in love with the technology and its potential to help communities. When not involved in crypto currencies he's tending to his allotment, crossing stupidly hot chilli peppers and is currently enrolled on a Natural Sciences degree.
[/su_column]
[su_column size="1/3″]
xonar
49, Italy
Contributor

In early May 2013 I became owner of my 1st FTC, really not remember from what "faucet" – it came into my wallet… then I became a member of the community. I'm not a big writer, and not a great technician, but I love this community, it's serious and at same time nice and interesting.
[/su_column]
[su_column size="1/3″]

mirrax
30, Czech Republic
Trader, PR support

BTC and FTC literally changed my life. After initial big losses as fresh trader I gained some confidence.
Enough to quit my work and divide my time into my familly, hobbies and trading. FTC was first coin I was involved with and I have no intention to quit.
Education: electronic engineering degree. Last job: 4 years chinese goods imports.
[/su_column]
[/su_row]
[su_row]
[su_column size="1/3″]
Ilocans
Contributor

I discovered the world of cryptos in april 2013 when the bitcoin reached 60$USD. Almost 2 weeks after I discovered Bitcoins, Feathercoin was launched and I was one of the first miners. Since then, I am a strong supporter of Feathercoin and I am still mining with my small rig. I also helped by working a little bit with UKMark, translating to french, developing 2 android apps regarding FTC (FTC Miner Tool: a tool to track your rig on a pool and CryptocoinsManager: a tool to track the balance of your FTC wallet and also for other currencies), working with Wellenreiter on the Feathercoin Android wallet.
I can't be really present very often because I have a family and a lot of work. However, I read the forum very often, I am supporting Feathercoin because I love the community since day one and because it is the first coin I could really mine and because I can be involved in its evolution.
[/su_column]
[su_column size="1/3″]
Nathaniel / RIPPEDDRAGON
Contributor

Mined FTC from the beginning and helped push us through our hardest mining times post launch, never lost faith in the coin. Joined the dev team briefly but my full time dev job took up too much time for me to contribute anything useful. Mined WDC at the start of UNOCS (I still hold some of all 3 coins), helped with bugs in PXC/WDC, and helped nutnut with bugs in his pool software. Actively helped others in our GPU mining community for a long time. I developed power optimization strategies for GPU miners here and was able to boost electrical efficiency close to 50% while mining scrypt. I no longer mine FTC as I am a GPU miner but still hold FTC for our bright future!
I am currently working on building out a half rack GPU farm in my employer's data center. Each 4u machine runs and cools 6 GPUs effectively while running at full power. I just finished getting my first 2 4u servers running 24/7 and I have 3 more 6 GPU 4u server chassis arriving late this week or next Monday at the latest. I am moving toward building a scale-able cloud mining service for GPU miners even if the current market just isn't there for it.
[/su_column]
[su_column size="1/3″]
Vizay
29, Sweden
Project management

I'm a Swedish chap closing in on 30 with an almost annoyingly positive attitude and a strong belief that the world can be made better than it is today.
Working as a ICT Engineer at ///, mainly focused on building internal cloud services for the R&D dept here in Stockholm. When I don't work I spend a lot of time with my daughter and girlfriend, enjoying life with them.
First got involved with crypto through a colleague that introduced me to Feathercoin in December -13. Started out with mining, mainly just for profit, but quickly saw that there's a whole lot more to crypto than just making quick bucks and moving on. It's the philosophy around crypto that makes me stay, I want to be part in making the world a better place, and I believe there's big potential for crypto to play a key role in that process.
[/su_column]
[/su_row]
[su_row]
[su_column size="1/3″]
Tuck Fheman
North America
Forum Moderator
Involved with the Feathercoin community since a few weeks after launch, because it's the most friendly/helpful community in all of cryptocurrency! Created/maintains several Feathercoin blogs and is a former trollbox FUD fighter. Helped fund Kevlar's LINK protocol project with other community members.
[/su_column]
[su_column size="1/3″]
T4rQu1N
Contributor

I don't have as much time to engage as regularly as I would like, nor do I have the technical skills to support development work. What I do have, is a passion for this coin, and more so the community that defines it. My promise, is to do everything I can to mentor, support, and inspire anyone willing to make an intellectual contribution!
[/su_column]
[su_column size="1/3″]
Lizhi
38,China Beijing
Forum Moderator
I am a chinese technocrat, a keen enthusiast for crypto currency. Full of love for Feathercoin, believe that technology can change the life. I know that when people use FTC, I would be proud. I read the forum very often. In the meantime, I set up chinese-language of FTC website, I did it for the greater good. Let's go ahead, we work together to establish our history.
[/su_column]
[/su_row]
[su_row]
[su_column size="1/3″]
mnstrcck
Toronto, Canada
Contributor

Besides enjoying spending any free time I have outdoors in the Canadian wilderness, I run my own business focused on online marketing services for small to medium sized businesses. I also double as a project manager on new media for Canadian film and television.
Crypto-currency interests me, and I've spent the last year learning about it as much as possible and gotten involved with the Feathercoin community. It's been a ton of fun!
[/su_column]
[su_column size="1/3″]
Pyxis
30's, Ireland
Researcher, Promoter, Miner, Trader & Loyal Feathercoiner.

I have been with Feathercoin since the early days and I have seen it through thick and thin, this coin has always had the greatest community in crypto and the greatest forum in which to enact constructive ideas for crpytos, it was the begining of that community that attracted me to Feathercoin.

During the first few months of Feathercoins life, I spent up to 60 hours a week (like a second job), researching, promoting, campaigning Feathercoin and introducing people to Feathercoin, sadly as demand for my time increased elsewhere I had less time to devote to Feathercoin over the past months, but I still mine and trade Feathercoin, I promote feathercoin whenever I can and I will always be a Loyal Feathercoiner. The next time crypto grabs the worlds attention we will see another huge influx of new members and I plan on being there at the Feathercoin door to welcome them.
[/su_column]
[su_column size="1/3″]
[/su_column]
[/su_row]
[su_row]
[su_column size="1/3″]
[/su_column]
[su_column size="1/3″]
[/su_column]
[su_column size="1/3″]
[/su_column]
[/su_row]
[su_row]
[su_column size="1/3″]
[/su_column]
[su_column size="1/3″]
[/su_column]
[su_column size="1/3″]
[/su_column]
[/su_row]
[su_row]
[su_column size="1/3″]
[/su_column]
[su_column size="1/3″]
[/su_column]
[su_column size="1/3″]
kris_davison
late 20's Newcastle
Staff/Team

A Geordie (from Newcastle, Northern England) in his very late 20's who first got involved with Feathercoin in August 2013. He is quite new to the Feathercoin team but has contributed to general community duties and to the merchant poster campaign.
While being a full time Java developer during the day he also was recently involved in developing a "Powered By Feathercoin" android game but plans on getting much more hands on with merchant services development.
"Im looking forward to giving something back to the great community Feathercoin has."
[/su_column]
[/su_row]